Ply System (for Flat & Low-Slope Roofs)
• Lowers your energy costs year-round

• Custom-built on site

• Strong and lightweight

• No seams, no tar

• No tear off
Proven Performance Since 1977!

Conklin fabric-reinforced ply systems cover your roof with a seamless coat of protection and eliminate the leaking! A fabric-reinforced ply system combines the leak-resistant seamless membrane of a liquid-applied system with the toughness and tensile strength of a single-ply system. The reinforcing fabric gives extra strength to the finished watertight coating membrane without adding significant weight. With its reflective, energy-saving white top coat, your finished ply system stands up against tough weather and offers strong long-lasting protection.
Click to view Ply System video (55.85MB)*
*If you experience problems downloading video, contact us for a copy info@whiteroofs.net
Here's How It Works:
Step 1: Surface Preparation
An existing roof is thoroughly cleaned and prepared, making the surface as smooth and free of loose material as possible.

Step 2: Coating with Fabric Reinforcement
The entire roof is coated with a base coat. While this is still wet, Spunflex fabric reinforcement is embedded in the roof coating. A second coat is applied over the fabric to complete the embedding process.


| | |
| --- | --- |
| | Coating with Fabric Reinforcement |
| | Rolling out the Spunflex Fabric |
| | |
| Sealed Wall Before | Sealed Wall After |
| | |

Step 3: Top Coat Applied
Finish with the energy-efficient white top coat to complete the Ply System which will provide a maintenance-free, sustainable roof that will last for years.
Completed Project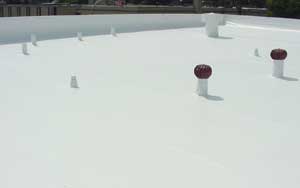 ---
Additional Options:
Option 1: Board Stock Installation

An optional 1.5 inch insulation with R value of 10 is installed.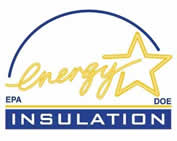 Conklin has partnered with Atlas Roofing Corporation to offer you high-quality boardstock insulation for a wide variety of roofing applications. Atlas ACII polyisocyanurate foam insulation is the board insulation of choice for Conklin roofing systems. ACII is a closed-cell, polyiso core integrally laminated to heavy black (non-asphaltic), fiber-reinforced felt facers. Because of its ability to resist heat transfer, roof insulation conserves energy and increases occupant comfort.
| | |
| --- | --- |
| | |
Option 2: Prime Time®


The roof is primed with Prime Time® primer. Prime Time helps your substrate bond properly with Conklin coatings. It's "liquid insurance" that improves adhesion between the roof coating and a wide variety of substrates; approved exterior plywood, high-density troweled concrete, asphalt shingles and built-up roofing. Prime Time flows easily on rough, weathered or irregular substrates, and is necessary for recoating aged asphalt built-up roofs.